---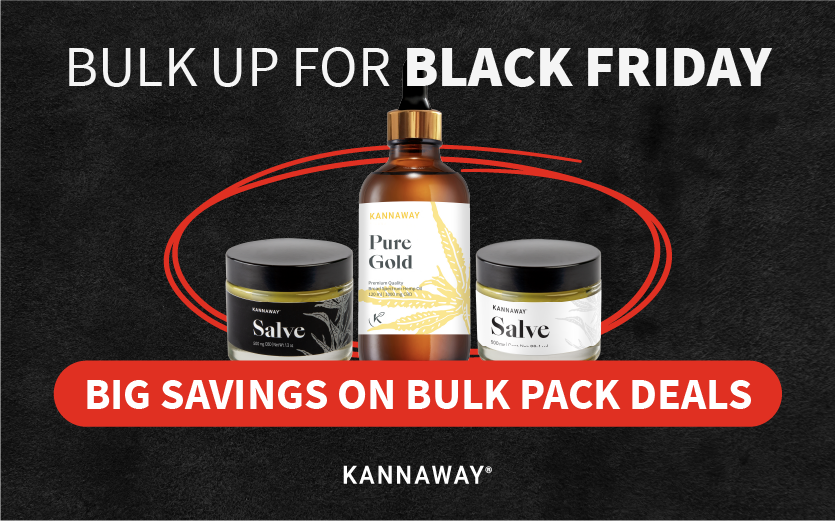 Global Bulk Up Your Savings Promotion
For a limited time, we're offering incredible deals on bulk packs. In the US, South Africa, and Mexico, when you buy 5 Salves, you'll receive an additional 3 for FREE! This is a fantastic offer on one of our most popular products! Don't miss out.

And in Europe, if you purchase 5 Pure Gold 1000mg, you'll get an extra 3 bottles FREE. Another remarkable deal on this beloved product! Stock up on bulk packs now and save big! But hurry, this promotion ends on November 30th.
Valid in: United States, Europe, Mexico, South Africa
Promotions are subject to change or amendment at any time. Expires November 30 at 11:59 pm PT.
---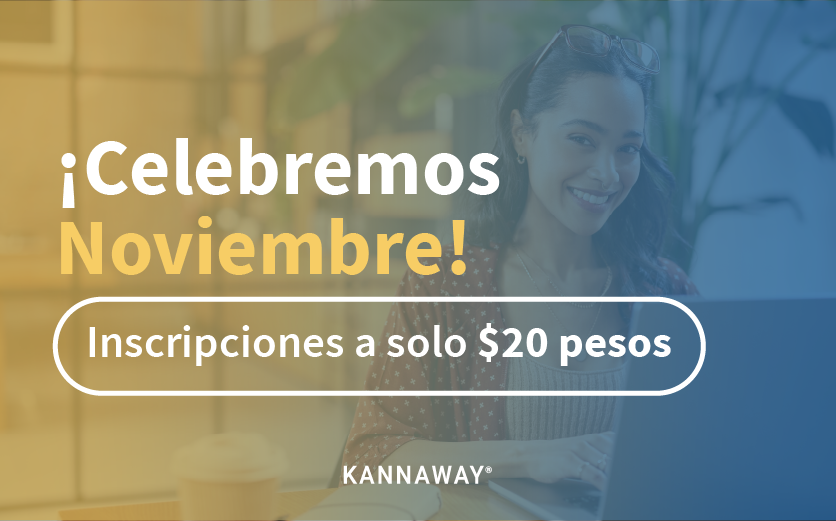 Mexico November Special: Enroll for Only $20!
We're celebrating November with a fantastic offer: Enrollments are now just $20! This remarkable opportunity allows you to fuel your business growth while saving significantly. Act swiftly, as this exclusive deal is valid only throughout November!
Valid in: Mexico
Promotion expires 11:59 PM PT November 30, 2023. Subject to change or amendment at any time.
---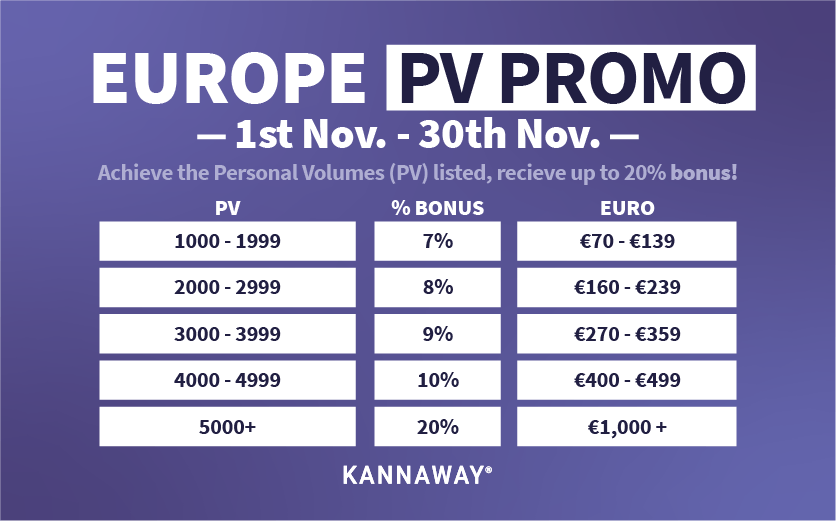 Personal Volume Promotion for Europe
Boost your business and earn extra bonuses with our November Personal Volume (PV) Promotion! Throughout the month when you enrol a new customer, you have the chance to receive up to a 20% Bonus by reaching specific Personal Volume (PV) goals. Don't miss out on this incredible opportunity to maximize your earnings and reap the rewards of your dedication and efforts. Act now and make the most of this limited-time offer before it's too late!
Valid in: EUR, UK
---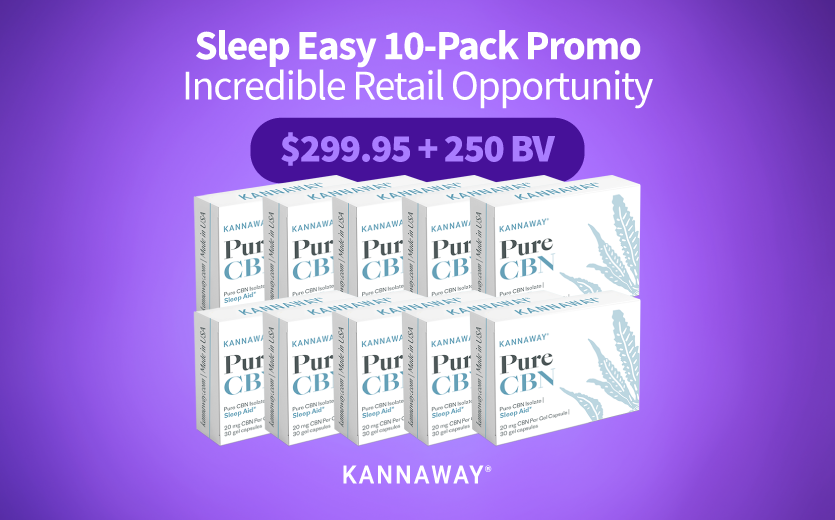 Kannaway USA Sleep Easy 10-Pack Promotion
We have some exciting news to share, Kannaway Family! We're offering a special promotion on our Pure CBN Gel Caps. You can grab a 10-pack of these capsules for just $299.95 + 250 BV! It's a fantastic deal that not only supports a good night's sleep but also presents a great retail opportunity. CBN, often referred to as the "Sleepy Cannabinoid," is a natural way to promote restful sleep without the use of artificial chemicals or unwanted side effects. Make sure you don't miss out on this offer; it's available only while supplies last. Get ready for peaceful nights with Kannaway!
Valid in: USA
Promotions are subject to change or amendment at any time.
---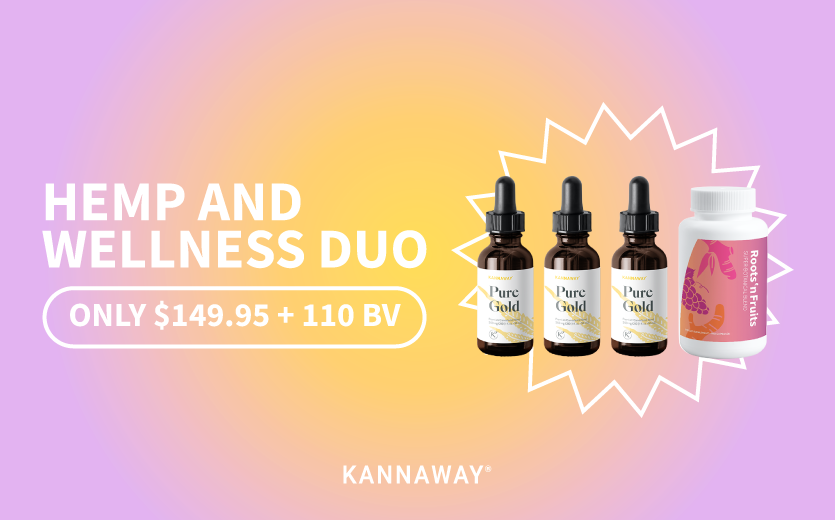 The Perfect Duo for Hemp and Wellness
Our Hemp and Wellness Duo is ideal for meeting your body's essential nutrient requirements. Roots'n Fruits is our super-botanical blend, featuring Muscadine Grape Seeds and Skins, Organic Pink Fijian Ginger, Organic Fijian Turmeric, and Fulvic Plant Minerals, all combined to enhance your health. Pure Gold CBD is our carefully crafted broad-spectrum hemp oil, intended to support your Endocannabinoid System (ECS). Together, these two create a powerful duo designed to boost your overall health and well-being.
Valid in: USA
Promotions are subject to change or amendment at any time.
*The FDA has not evaluated this product for safety or efficacy. This product is not intended to diagnose, treat, cure, or prevent any disease.
---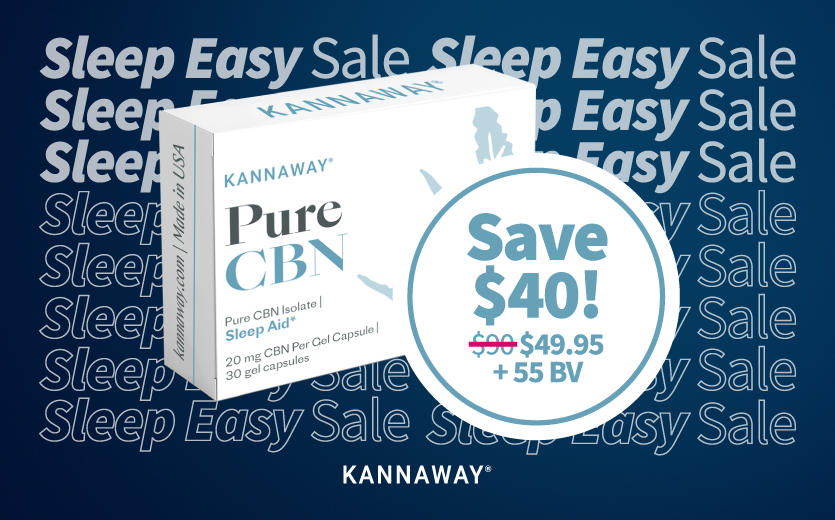 Kannaway South Africa Sleep Easy Sale
Introducing Kannaway's Sleep Easy Sale! We've slashed prices on our popular Pure CBN capsules. CBN, often called the "Sleepy Cannabinoid," naturally enhances restful sleep without any artificial substances or adverse effects. And for a limited time, enjoy this fantastic deal at only R800 + VAT with 55 BV. Don't miss our limited-time offer, making better sleep affordable for all!
Valid in: South Africa
Promotions are subject to change or amendment at any time.
---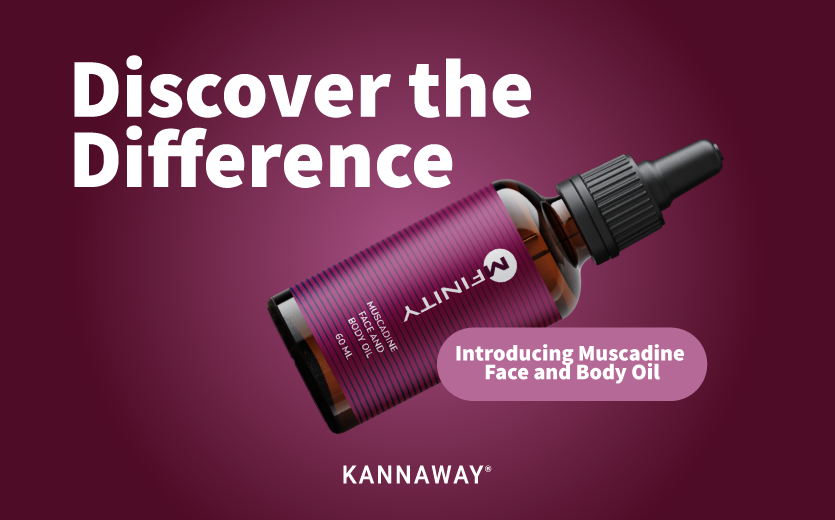 Introducing Muscadine Face and Body Oil to Europe!
We are excited to introduce our latest product, Muscadine Face and Body Oil, a nutrient-dense oil enriched with antioxidants, vitamins A, C, and E, tocotrienols, resveratrol, and omega-3, 6, and 9 Fatty Acids.

This exceptional blend combats the harmful effects of free radicals and helps reduce premature aging, providing your skin with the nourishment it deserves. The quick-absorbing Grapeseed oil ensures your skin stays hydrated without clogging pores.
Valid in: EUR
---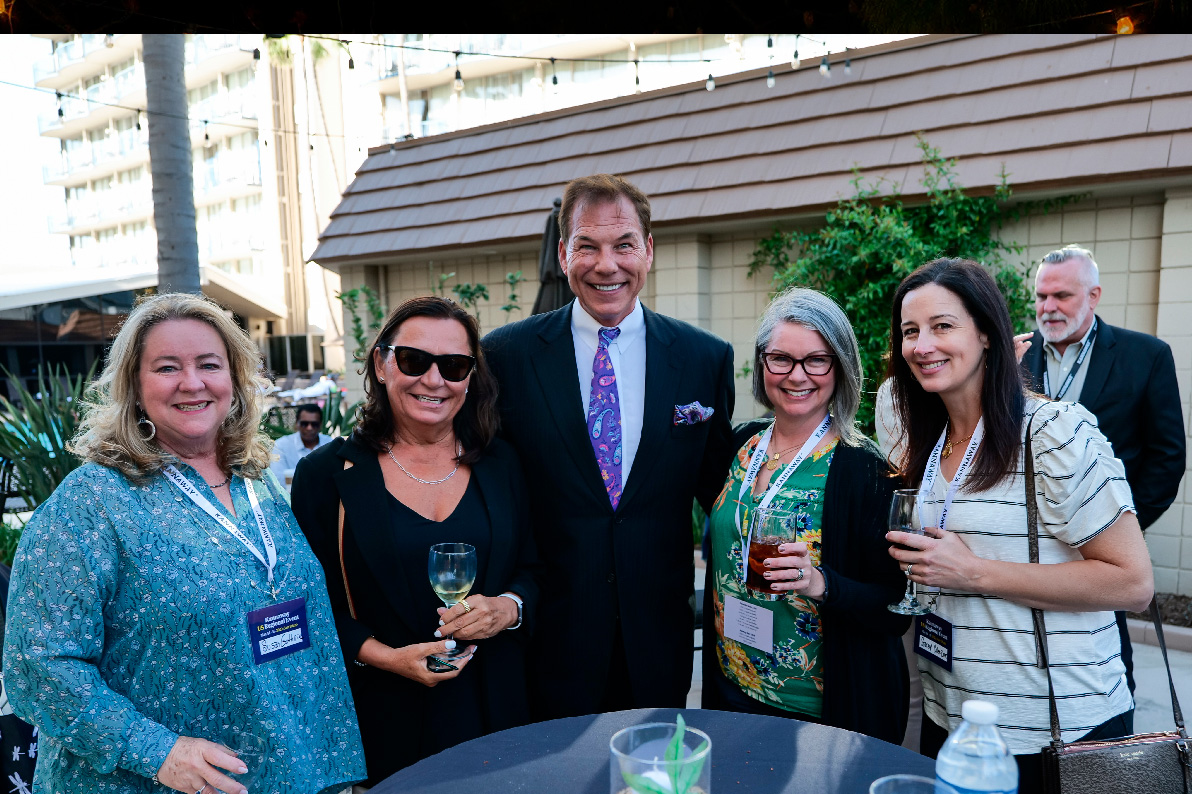 Set yourself up for success
and join Kannaway today!